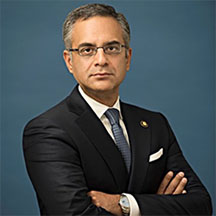 Originally from Huffman, Texas, Mr. Nomi K. Husain is the founder of Husain Law + Associates, PC. Mr. Husain maintains a diverse practice and has represented clients ranging from foreign governments in Kazakhstan, Uzbekistan, Tajikistan, and Kyrgyzstan, to small business owners and individuals in personal injury cases in the U.S. and abroad. He leads the practice with the belief that every client should be aggressively represented with due diligence to maximize each client's recovery.
Mr. Husain is Board Certified in Personal Injury Litigation by the Texas Board of Legal Specialization and is Board Certified in Civil Trial Law by the National Board of Trial Advocacy. He is licensed to practice in Texas, New York, District of Columbia, and is a licensed solicitor for England and Wales. He is also licensed to appear before the U.S. Supreme Court, the U.S. Federal Court for the Northern, Southern, Western, and Eastern Districts of Texas, the Texas Supreme Court, and the New York Court of Appeals. Mr. Husain is a Certified Mediator and has successfully represented clients in both State and Federal Courts.
In 2017, Mr. Husain was selected as a Super Lawyer, a recognition bestowed on less than 5% of all lawyers in the State of Texas.
He is currently the chairman of the Ethics Commission for the City of Houston and the chairman of the South Asian Chamber of Commerce. He is a member of the International Bar Association and the London Court of International Arbitration. He is also a member of the Multi-million dollar advocates' forum and the U.S. Justice Department's Community Liaison Committee and has served as a member of the State Bar of Texas Grievance Panel and the College of the State Bar of Texas. Mr. Husain has also served as the Vice President of the Houston Trial Lawyers Association and was a former commissioner for the Building and Standards Commission for the City of Houston.
Mr. Husain graduated from the University of Texas at Austin with a B.A. in Political Science (1995) and the South Texas College of Law (J.D., 1998). Before Husain Law + Associates, PC, he was the Articles and Notes Editor of International Trade Law Journal and clerked for the Honorable Scott Link.