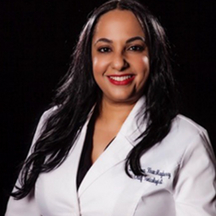 Dr. Noreen Khan-Mayberry is a professional Toxicologist and Medical Scientist, with 20 years of professional experience working in the fields of petrochemical, microbiological, chemistry and toxicology.  NKM Consulting is a HUB certified small business which includes NKM Environmental Health Sciences and Dr. Noreen, The Tox Doc. Dr. Noreen has specialized experience in Environmental contaminants and their impact on human health, air, water and ground quality. Dr. Noreen also served as the first female NASA Space Toxicologist, one of only 7 Space Toxicologists in the world, she worked with her colleagues to ensure that chemical contaminants in Space vehicles and Space habitats do not affect the  health of astronaut crews during spaceflight operations.
Dr. Noreen has authored a number of research articles, serves on several editorial boards of international peer-reviewed journals and has received a number awards including being honored as a trailblazer in science and a global leader. She is passionate about empowering people to improve their overall health as well as leadership for women.
Le Jardin de Nicole – Nicole's Garden Foundation is a nonprofit, member and sponsor supported, organization dedicated to bringing alternative gardens to areas with limited or no green space. Many people have no access to green space or nutrient rich soil to grow healthy food. Nicole's Garden brings a variety of alternative gardens to areas of the world where where traditional gardening is not an option.  By utilizing green technology and basic gardening techniques, various types of alternative gardens can be created.
Through her work as a public speaker and technical expert, she is routinely featured on television and talk radio as a guest expert and has spoken internationally. Your company can book Dr. Noreen for Television, Radio, Keynote Speaking engagements, team building, training in leadership and media messaging for highly technical scientific and medical data.