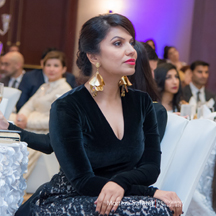 Mona Khan, as most know her, is the wife and business partner to her successful husband, and a proud mother of a 16 year old son.
She was raised mainly in the San Francisco area where she studied Business & Accounting. Following her education, she worked in the acquisitions department of two leading IT companies, namely Cisco Systems and Advent Software.
In addition to being a successful business owner, Mona is very involved in the local community. She is a philanthropist who dedicates time to multiple causes. She has been on the board of DIL (Developments in Literacy) for the past four years and continues to work hard to promote female education and empowerment. She was also court appointed special advocate for Children's Advocate, where she volunteered to provide critical advocacy for child victims of life-threatening abuse, neglect or abandonment. When Mona is not working and spending her time helping others, she enjoys traveling with her family, and spending time with her loved ones.