Houston, Texas – The South Asian Chamber of Commerce (SACC) has announced their Calendar of Events for 2023, which features a range of networking, educational and social events.
The SACC Legacy Reception on March 16th, 2023, will kick off the year with a celebration of the organization's rich history and contributions to the South Asian community in Houston. This event will honor the founding members of the SACC and their vision for the future and is open to current members and past board members only.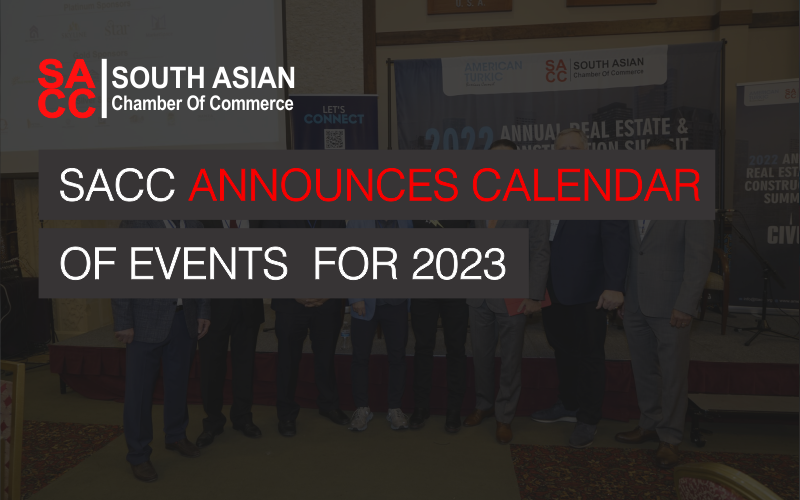 On March 20th, 2023, the SACC will host a Networking Mixer at the Rockets Game, providing members with an opportunity to connect with other business professionals while enjoying the Houston Rockets take on the Golden State Warriors.
May 18th, 2023, will see the SACC Luncheon – State of the Economy event take place. This event will provide members with valuable insights into the current state of the economy and how it may impact their businesses with insights from the Dallas Federal Reserve.
July 2nd, 2023, will offer another chance to network, as the SACC hosts a Networking Mixer at the Astros Game. Members will enjoy the World Champion Houston Astros take on the Dallas Rangers and make valuable connections with other business professionals.
On September 21st, 2023, the SACC will hold their Business Over Breakfast event, offering members the opportunity to network over breakfast and learn from a guest speaker on how to scale up their businesses.
August 24th, 2023, will feature the SACC Chai Exchange, Franchise Workshop, where members can enjoy chai and snacks while learning how to evaluate and purchase a franchise.
The 5th Annual SACC & ATBC Annual Real Estate Summit on November 14th, 2023, will offer valuable insights into the real estate industry, featuring expert speakers and networking opportunities.
Finally, on December 14th, 2023, the SACC Cross Chamber Holiday Networking Mixer will bring together members from various chambers of commerce for a festive networking event.
In addition to these events, the SACC will be offering educational webinars throughout the year, as well as their 30th Anniversary Gala in October.
"We are thrilled to offer such a diverse range of events for our members in 2023," said Sohail Hassan, President of the South Asian Chamber of Commerce. "Whether they are looking to network, learn new skills or celebrate with their peers, there is something for everyone in our Calendar of Events."
The SACC has been a leading advocate for the South Asian business community in Houston, Texas, and the surrounding areas. Through their events and programs, they have fostered connections and provided resources to help businesses grow and succeed.