The freshly elected board members and presidential line for the South Asia Chamber of Commerce (SACC) for 2022-2023 have been announced. For the 2022-2023 term, Sohail Hassan has been elected SACC president, Sumit Dalwadi has been elected treasurer, and Malik Jamal has been elected SACC chairman.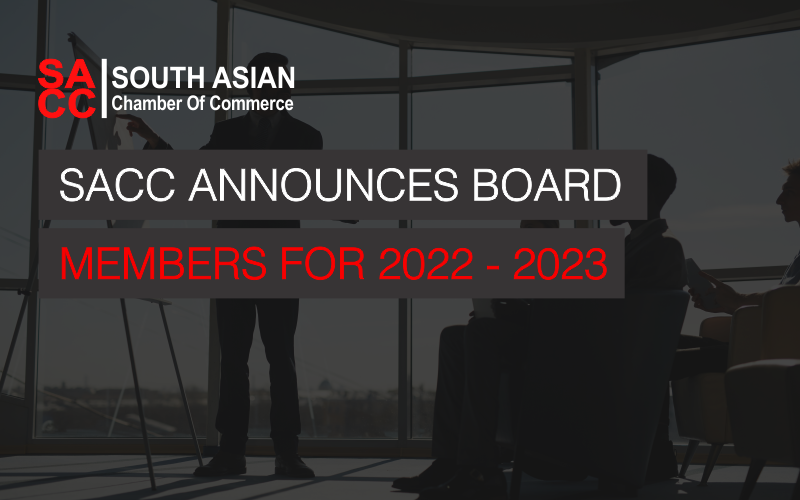 Sohail Hassan
A Houston-based private equity real estate investment and development firm, MarketSpace Capital, is led by Sohail Hassan, a seasoned professional and the firm's founder and managing partner. As a successful entrepreneur in the renewable energy field, he has also worked in the finance, technology, and commercial real estate industries.
Sohail launched MarketSpace Capital after acquiring and successfully exiting several engineering and technology businesses, including Bovay Engineers, a civil and mechanical engineering design firm founded in 1946. Sohail was also the Director of U.S. Operations for the Apex Group of Enterprises, a global consortium of companies specializing in business consultancy, insurance and financial services, manufacturing, vendor management, and medical equipment supply and logistics for both the private and public sectors.
Proficiencies in Real Estate Transactions, International Affairs, Political Science, and Sociology are among Mr. Hassan's academic credentials. Mr. Hassan is a scholar, community leader, and accomplished public speaker dedicated to furthering equality for the world's marginalized and underprivileged populations. As a graduate of Texas, A&M University, George Washington University, the Bush School of Political Management, and the Asko Europa-Stiftung University in Saarbrucken, Germany, Sohail earned his bachelor's and master's degrees. He also holds certificates from Cornell University in Real Estate Management and European Union Politics. Sohail has recently acquired a Certificate in Fintech Revolution from the Wharton School of Business at the University of Pennsylvania, emphasizing blockchain. He also serves on the boards of several non-profit organizations, including the South Asian Chamber of Commerce (SACC) in Houston, Texas.
Sumit Dalwadi
Sumit Dalwadi is the President of Dalwadi Hospitality Management, a hotel management company, and J.D. Engineering and Construction Corporation, a commercial construction company specializing in hospitality. In addition to being a real estate agent, Sumit also works in the retail sector as a broker. Having completed his undergraduate studies in Computer Science, he acquired his MBA in 2015. Sumit serves on various committees for the Hotel and Lodging Association of Greater Houston as a Brand Ambassador for charity: water. As part of his work with the Asian American Hotel Owners Association and IHG Owners Association, he worked on several committees and task forces. A native Texan, Sumit has made Houston his home since 1993. He is a car enthusiast who likes to take road trips with his friends and family.
Malik Jamal
NRG's Senior Business Manager is Malik Jamal (SACC Chairman). As a result of his education, Malik has an MBA from Rice University and a B.A. in Marketing from the University of Houston. Over the past 15 years, he has worked in the retail energy sector. NRG's Discount Power and Cirro Energy brands are among the ones he is now working on. Previously, he worked in North American marketing for Tara Energy and Just Energy. As a customer service and call center manager, he has had previous experience. At Nizari Progressive Federal Credit Union, he is also the chairman of the board of directors.
Aamir Chandio
Aamir Chandio, a strategic brand and digital marketer is the odd one out in his family of attorneys and doctors. He has successfully established and managed numerous companies in the media, consumer packaged goods, global textile, hair care, and construction industries throughout his career. Strong strategic fundamentals have helped him cultivate teams of highly skilled experts from various functional areas, and his efforts have resulted in long-term, sustainable growth. For years, Aamir has worked to link marketing communications with a company's vision and goals, directly influencing profits. He enjoys playing music and manufacturing soap with a unique combination of exotic oils in his spare time.
Jamal Parpia
Jamal Parpia is the CEO of J.P. Marketing and an SEO (search engine optimization) expert. In 2009, Jamal began working with some of the best private practice marketing organizations, and in 2017 he decided to launch his own company. With over 150 clients since then, he has partnered with other digital marketing organizations to provide white label services and advice across the country.
Many new connections and businesses were formed over time since Jamal was able to meet and interact with many different business owners through his work. Additionally, Jamal is certified in a number of these areas, such as real estate, insurance, and legal. In addition, Jamal and his wife Kiran (a social worker) founded Visible Insignia, a non-profit dedicated to offering mental health resources, mentorship, and financial education to people from all walks of life.
Kevin Shah
Software Engineer Kevin Shah works for a global tech company as a Senior Software Engineer. Kevin graduated from the University of Houston with a Bachelor's degree in Electronics Engineering and a Master's degree in Computer Science. Kevin knows as a Fortune 500 executive in the oil and gas, financial technology, and technology industries. At the same time, Kevin is an advocate for technology education in schools and a mentor to young professionals. He is an avid traveler and enjoys spending time in nature.
Misbah Chaudry
She is an Immigration Lawyer with a proven track record of success in the legal profession. Removal Defense, Naturalization, Trials, Appeals, and International Law are all areas of expertise for this lawyer.  Misbah Chaudhry is an Indiana University School of Law graduate with a Master of Laws (LLM). She has been practicing immigration law for many years. It was Misbah Chaudhry's duty to convey her significant knowledge in dealing and communicating with government agencies and departments such as the Department of Homeland Security, the Department of State, Labor, Immigration Customs, and Enforcement (ICE), and Immigration Courts (EOIR).
The full list of board members for 2022-2023 is listed below:
Sohail Hassan- President
Sumit Dalwadi – Treasurer
Majib Jamal – Chairman
Aamir Chandio – Board member
Jamal Parpia – Board member
Kevin Shah – Board member
Misbah Chaudhry – Board member