Join the South Asian Chamber of Commerce (SACC) and the American Turkic Business Council on May 12th, 2022 at the Turquoise Center for our first Chai Exchange of the Year. This quarter's topic is "Living with Inflation and How you Can Benefit," which was chosen in response to widespread interest in the subject. In this enlightening seminar for SACC members and non-members, we will hold a panel discussion on the current state of the market and inflation. We invite industry veterans to join us for this event. The more significant question is how you may make a profit from it by employing the appropriate investment tactics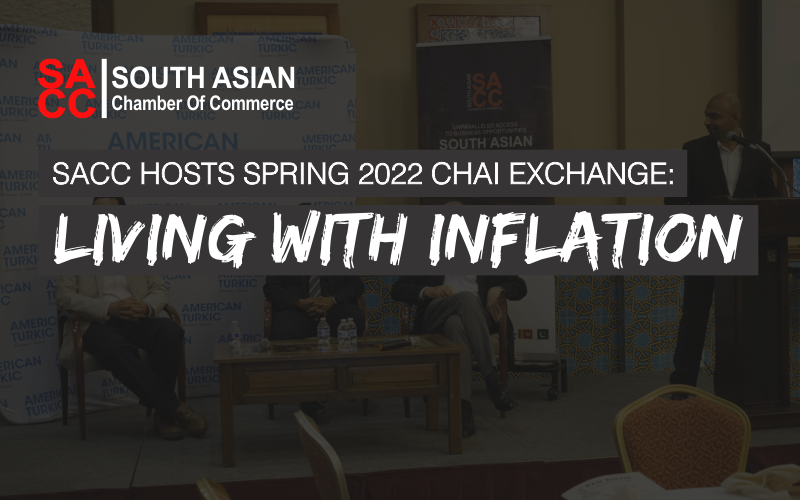 The rate of inflation has skyrocketed to unprecedented heights, which has a knock-on effect on every aspect of our life, including the cost of the food and energy we buy. Long-term plans regarding retirement are likewise affected by this. You will discover new methods and be reminded of older strategies that are still vital during this panel discussion. Some of the topics that will be covered include: the state of the current market; why inflation generates issues but also presents possibilities for people who are educated. Where the market is going, who is going with it, and who it is going to leave behind are all things to consider.
Do not miss out on the SACC's first in-person event of the year—it has been over two years since the last one! Gain knowledge, make connections, and gain a jump start on the competition. This event provides complimentary parking, light refreshments, and the chance to network with other investors who share similar interests. This is not a request for donations of any kind.
There is a limit to the number of seats available, and each guest is required to RSVP.
Take Advantage of Early Bird Tickets
Non-SACC Members: Individual Ticket     $20.00
SACC Members: Individual Ticket              $15.00
At the Door
Non-SACC Members: Individual Ticket     $25.00
SACC Members: Individual Ticket              $20.00
Speakers for this Quarter's Chai Exchange
Jesse Thompson – Senior Business Economist at the Houston Branch of Federal Reserve Bank .
John Carter – CEO OF Pan Asian Chemicals
Adil N. Mackwani – President of M&A Wealth
Program Information
5:00-6:00pm: Registration/Cocktail Hour
6:00-6:30pm: Living with Inflation Presentation by Jesse Thompson, Senior business economist at the Houston Branch of the Federal Reserve Bank of Dallas.
6:30-7:00pm: Follow Up Panel Discussion with Adil Mackwani and James Wrubel
7:00pm-8:00pm: Networking Session
Location Information
Location Name: Turquoise Center
Address: 9301 W Bellfort St Houston, TX 77031, United States